World
'Don't stop fighting': Wrongfully convicted man free after 32 years
On a sunny Thursday afternoon in Los Angeles Andrew Leander Wilson did something that seemed unbelievable to him; he walked outside on the sidewalk with only his family guarding him, CNN reports.
"I've been inside for 32 years, three months and 14 days. It's been that long," Wilson told CNN.Wilson has been in prison all those years. He went in at age 30 convicted of murder and now at 62 he is a free man because evidence had come to light that the prosecution withheld in the case all those years ago. Superior Court Judge Laura Priver ruled Wilson had been deprived of his constitutional rights to a fair trial, vacating his conviction and ordering his immediate release. One day later Wilson was free.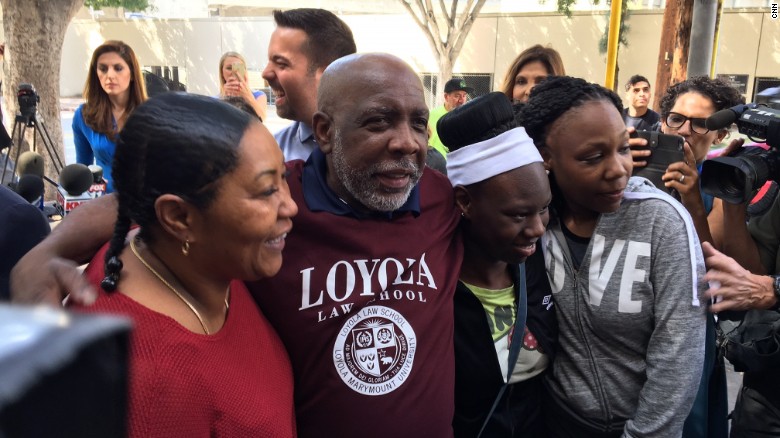 "I say it all the time, don't stop fighting. Don't give up. It seems like that's what the justice system wants you to do and I never gave up," Wilson said adding, "By the grace of God I was put in contact with Loyola Law School."
His attorneys and students from the Loyola Law School Project for the Innocent worked to bring the new information to light. The information they found showed the prosecution had withheld information during the murder trial.
Wilson had maintained his innocence since the day he was arrested for the stabbing death of a 21-year-old man in 1984. The man was sleeping in his truck when he was fatally stabbed. His girlfriend Saladena Bishop was also in the truck. Wilson's attorneys said the prosecution withheld key pieces of evidence concerning the main witness.

According to the innocence project, Bishop picked Wilson out in a line up only after a police officer pointed to Wilson's photo asking: 'What about him?' Before Wilson's trial, police had deemed Bishop an unreliable witness because she had once filed a false police report accusing someone of kidnapping and attempted rape. Then there was Bishop's friend, who had revealed to the trial prosecutor that Bishop had stabbed her boyfriend in the past and was likely the killer. Loyola's innocence project says none of that evidence was handed over to Wilson's defense attorney.
Wilson has paid a heavy price. Half his life has been spent in prison. He's missed 32 years of Christmas dinners, graduations, even the birth of his granddaughter, but he says he is not bitter.
"I'm past it. I just want to get something to eat right now and love my family," he said with a chuckle. What would he eat?
"Anything he wants," his sister Gwen Wilson chimed in.