World
Barack Obama: I'm 'confident' I could have won a third term as president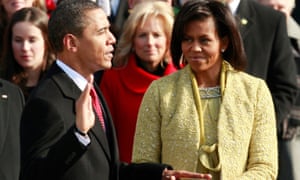 Barack Obama has said he believes he would have won a third term in office were he eligible to run in the 2016 presidential election, while also casting a skeptical eye at the UK Labour party under Jeremy Corbyn's leadership, The Guardian reports.
In a wide-ranging interview with former aide David Axelrod, the outgoing president expressed his belief that he could have won re-election in 2016, based on his view that most Americans still subscribed to his progressive vision and ideals.
"I am confident in this vision because I'm confident that if I had run again and articulated it, I think I could've mobilized a majority of the American people to rally behind it," Obama said on Axelrod's CNN podcast.
The outgoing president summarized this progressive American spirit as one that "manifests itself in communities all across the country".
"We see it in this younger generation that is smarter, more tolerant, more innovative, more creative, more entrepreneurial, would not even think about, you know, discriminating against somebody for example because of their sexual orientation."
Ultimately, Obama did not think the election represented a sea change in American politics or a repudiation of his administration, insisting that "the culture actually did shift, that the majority does buy into the notion of one America that is tolerant and diverse and open and full of energy and dynamism".
To an extent, this was reflected in the final outcome of the election, where Hillary Clinton won the popular vote by nearly 3m votes.
Despite Clinton's popular plurality, however, she lost several industrial states in the Rust Belt by narrow margins. She lost Pennsylvania by 44,000 votes, Wisconsin by 23,000 votes and Michigan by 10,000 votes. Had she won all three states, Clinton would have bested Trump in the electoral college and won the White House.
Obama might very well have fared better in the 2016 election. Clinton was unable to turn out as many African American voters as Obama had in the previous two general elections. Her support among blue-collar white voters also collapsed. This was particularly notable in Wisconsin, a state where Obama won white non-college-educated voters in both 2008 and 2012. Clinton was unable to compensate for these demographic losses with sufficient gains among Hispanic, white and college-educated voters.